Correct
Advanced Skincare to Improve Specific Skin Concerns
SkinCeuticals CORRECT products combine anti-aging, clarifying, moisturizing, and exfoliating ingredients to address a wide array of skin concerns including the appearance of wrinkles, discoloration, blemishes, and more. When used regularly, these targeted products help restore a healthier and more youthful appearance.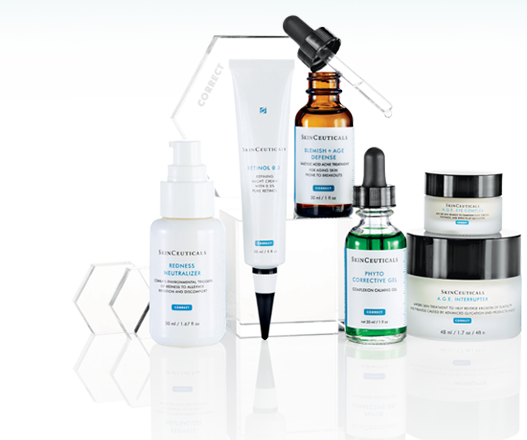 Tri-functional corrective treament addresses early to advanced signs of visible neck aging by reducing the appearance of horizontal neck lines and neck skin crepiness.

Best selling A.G.E. Eye Complex and Physical Eye UV Defense are clinically proven to correct skin aging and protect skin from daily sun exposure. Now featured together in a limited edition set with AOX Lip Repair to smooth the lips surface. Valued at $166 save 8.3%.

Best selling LHA Cleanser and Blemish + Age Defense are clinically proven to fight acne. Now featured together in a limited edition set with Phyto Corrective Gel to calm and hydrate the skin. Valued at $220 save 11%.

Glycolic 10 renew overnight improves the appearance of skin texture and tone to promote a bright complexion and glowing skin.

Concentrated facial cream with pure retinol improves the appearance of visible signs of aging and pores while minimizing breakouts

Daily dark spot corrector targets visible skin discoloration for brighter, more even-looking skin

A multi-functional corrective serum to help amplify skin's hyaluronic acid levels

Intensive calming botanical face mask to rehydrate and soothe temporarily reactive skin

A patented anti-aging cream to refill cellular lipids and nourish dry skin. U.S. Patent No. 10,137,073.

A comprehensive daily emulsion formulated to improve the appearance of early signs of aging

Emollient treatment helps improve environmental damage, while smoothing and refining the lips surface.

A hydrating, soothing gel serum with botanical ingredients ideal to calm and hydrate skin while improving visual redness.